Key Product Details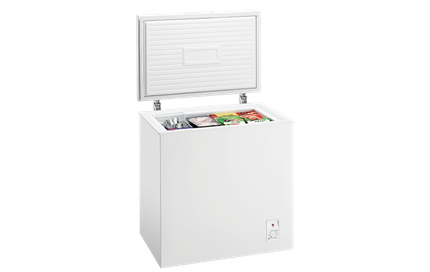 + MORE
WCM1400WD
140L chest freezer
140L chest freezer
is rated out of
5
by
99
.
760
W

x 560

D

x 825

H

(mm)

?
A 140 litre chest freezer with a lightweight lid and one removable basket
Where to Buy
Features
Perfect for buying food in bulk
Save money. Buy in bulk and freeze
Easy defrosting
Defrost drain allows water to drain easily
Flexible storage
Removable, sliding basket allows flexible storage
Key Features
Perfect for buying food in bulk
Save money. Buy in bulk and freeze
Easy defrosting
Defrost drain allows water to drain easily
Flexible storage
Removable, sliding basket allows flexible storage
Adjustable thermostat
Spring loaded lid
Defrost drain system
Sliding removable basket
Reviews
Reviews
Rated

5

out of

5
by
AMK86
from
Perfect for hiding ice cream from your family.
Im pleased with the new freezer. I told my husband we needed it because I wanted the family to eat "healthier" by meal prepping each week, as well as take the stress out of cooking for a family by getting organised and freezing meals. I lied. Let's be honest, I only bought it to fill it up with ice cream which I hide under a thin veil of frozen vegetables for camouflage. Due to its sufficient space without taking up too much room, I can successfully store about 40 boxes of ice cream under minimal bags of mixed frozen vege. I would not hesitate to recommend this freezer for that reason.
Date published: 2017-12-06
Rated

4

out of

5
by
Bmf73
from
Big inside freezer storage for its size
Its a great freezer and its really quiet however it needs another basket and its impossible to re open for about half an hour if you take something out as it seals incredibly well. I hope this dose not wreck the seal later on down the track.
Date published: 2016-06-01
Rated

5

out of

5
by
Rell
from
Great price
roomy enough but for a low cost great little freezer
Date published: 2015-09-21
Rated

1

out of

5
by
Bec C
from
Great until control thermostat stopped working
We bought this product a year and one week ago. So one week out of warranty, the control thermostat stopped working. To say I was disappointed would be an understatement. I was storing 6 months worth of pumped breast milk for the upcoming arrival of my best friends baby who is being delivered by surrogacy. As it had already started to defrost when we discovered the freeze wasn't working, all of it had to be thrown away. We have been told it will cost just as much to repair this freeze as it would to buy another. So we will be looking at other brands. So disappointed.
Date published: 2018-12-06
Rated

4

out of

5
by
Nonameunused
from
Love the space
This purchase has been on my mind for some time(I already have a fridge/freezer) and I am so glad it is now on my property! I take the point others have made about baskets, but I really don't find this a problem. I'm happy to put items in at random. The items don't stick together with frost so I see no problem. There is so much space I can see everything easily enough. If I want more organisation in my freezer I'll probably look for a basket to deal with that, there probably many options for the imaginative consumer. However, at the moment I couldn't be happier.
Date published: 2018-07-24
Rated

5

out of

5
by
Vege Patcher
from
Does What It Is Supposed To Do
I have been using this freezer for about a month and am very happy with it. It runs quietly. It is easy to move around on its castors. The waiting period for reopening is not excessive. Unlike a lot of other comments I don't need an extra basket as I like to move the existing one from side to side to select my items. An extra basket would constrict the 'operating' space needed to move items around to select and remove and would mean keeping the chest open longer. It appears to be well built and well insulated. Seals are good. Altogether a good purchase.
Date published: 2017-12-14
Rated

4

out of

5
by
Aussiecris
from
Chilled so quick
Great little freezer. Running on our solar system and uses very little power
Date published: 2018-06-18
Rated

5

out of

5
by
Tcirrus
from
Compact
After a month of having this appliance I am glad of making the purchase; It is very quiet and very compact. fitting into a small corner nook of the family area. What I like about the chest freezer versus the similar sized vertical freezers is that there are no compartments, making it ideal for odd sized or odd shaped items; eg leg of lamb. At this price you cannot go wrong. It is a simple machine, no bells and whistles and the 140litre capacity ideal as an overflow from the large kitchen fridge/freezer for singles/couples.
Date published: 2018-03-12
Rated

4

out of

5
by
wre123
from
good size
nice and compact, ideal as an overflow from my fridge freezer, to hold all those extra berries from the garden.
Date published: 2016-01-09
Rated

5

out of

5
by
Danny85612
from
Great freezer
Bought this a month ago and I am so happy with the purchase. Nothing to fault, works fine for me and didn't realise I could fit so much into this freezer!!! Brand name Westinghouse says it all about the quality.
Date published: 2019-01-28
Rated

5

out of

5
by
Bevvybabe55
from
Small freezer with large capacity
I am very impressed with this compact freezer, it fits perfectly in my laundry, the inside is spacious enough to take a months worth of meat.
Date published: 2018-02-12
Rated

5

out of

5
by
Farthing
from
Handy Size Chest Freezer
Could not be more happier with Appliances on Line which was recommended to me by my long time technician who services my appliances. The Westinghouse 140L chest freezer is great for a household, not a huge size but for a family is perfect & the basket up top is easy to slide along, could not be more happier with my purchase. Thanks AOL for helpfulness when I enquired & super fast delivery which was desperately needed when our old fridge/freezer 'died' after 20 years!.
Date published: 2016-09-03
Rated

5

out of

5
by
FreezerAmanda
from
Exactly as desired
I've only had this for about a month but so far I'm very happy. It freezes things quickly and works as it should. My only complaint is that the lid gets stuck if you try to open it twice within a small period of time. For example - you open it to take something out, then try to open it a minute later - it won't open. I think this is a pressure thing so I'm not sure if all chest freezers do it. Small issue but would be nice if it didn't happen. Otherwise great product.
Date published: 2016-03-22
Rated

4

out of

5
by
Liz_P
from
Great Unit.
I purchased this freezer four months ago. So far it has worked well. It runs quietly. It freezes at the manufacturer-recommened setting to -19C, slightly colder than the minimum -18C required for frozen food storage. It has a good design and the interior is roomy. The freezer seal functions as designed and described by Westinghouse in the user's manual that is supplied with the freezer. The freezer did not made any noticeable difference to the last power bill, but time is needed for a more accurate assessment of electricity costs. I recommend this product given it's consistent performance and reliability. The only negative is by way of a suggestion to Westinghouse: another basket would be useful. Westinghouse has outdone themselves regarding inflated pricing for extra and replacement baskets for this product.
Date published: 2017-03-19
Rated

3

out of

5
by
ZumbaTerry
from
Great freezer
I bought a chest freezer because of the price & I was desperate for a freezer because my older stand up freezer died. As a freezer it's great & quiet but for ease of use it's painful. I know things are in there somewhere !! You have to move everything out to locate things at the bottom, but I knew this..It will be good as an extra freezer when I get a new fridge/freezer combo & when I can just store certain things in there & not veything
Date published: 2016-09-22
Rated

5

out of

5
by
Vaness74
from
Great size
We've had our chest freezer for a few weeks now, and are very happy with it. It was easy to find space for it in the house, but is also big enough to fit heaps of extra frozen goods in when you do a big bulk buy of meat etc. It doesn't make any noise, and the lid feels solid when you open and close it. No problems with opening the door after having just closed it (some reviews saying it 'sealed shut' for a few minutes after closing lid).
Date published: 2018-08-17
Rated

5

out of

5
by
taniamihi
from
Westinghouse 140L Chest Freezer Excellent purchase
I bought this approx a month ago and have no regrets. It is very quiet and has very good storage for a small family. I have been able to buy in bulk and save money. I am sure it will pay for itself in no time at all. I am pleased I read previous reviews before I purchased as you cannot open for at least 5mins after you have already opened. If I was not aware of this I would have thought their was a problem with the freezer.
Date published: 2017-08-09
Rated

4

out of

5
by
Gemma
from
Pretty cool
Bought this a month ago but only turned it on a week or so ago. Is very quiet to run. Like others have said the lid cannot be opened more than once without a short break in between. That works for me as can't eat all the ice creams too fast. Probably been opened five times overall and starting to see a bit of ice around top of lid so be 8nteresting to see how often it will need defrosting down the track. Good size for couple.
Date published: 2019-01-31
Rated

5

out of

5
by
Searley
from
Just the right size for the two of us
A couple of years ago a relative kindly gave us a small upright 4 drawer freezer. We thought it would be big enough for us, but were dismayed at how little it held. It also iced up really quickly and needed defrosting monthly. After some research we decided to purchase the Westinghouse 140L chest freezer from Appliances Online. Purchase and delivery were absolutely painless, couldn't be happier with the service. The Freezer is on our back verandah and it so quiet I have to keep checking it is actually working. We did note when doing our research that the freezer lid can't be opened for about 10 minutes after closing, so just have to make sure we don't close the lid before putting the ice cream back! Our latest electricity account was much less than the same time last year, so the freezer is actually saving us money. Very happy and would highly recommend this unit.
Date published: 2018-02-24
Rated

4

out of

5
by
littlesarah53
from
Great little freezer
Bought this freezer 1 month ago and now, and it has been great so far. Only complaint is that is has such a strong seal - when you have opened the freezer and then closed it, it is impossible to reopen for at least 15 mins . This hasn't been a problem yet, but may be one if we have a party and need to access the ice frequently. Other than that its great - plenty of room to store lots of stuff, and very quiet.
Date published: 2016-11-09
Rated

5

out of

5
by
Mornington Man
from
Functional freezer for last-minute leftovers
From soups to pizzas or ice cream treats, this freezer is a storage solution that solves the problem of not enough space and yet a lot of space it does not take up. Backed by a familiar brand, with simplicity second-to-none, this is not so much a simple white-good but rather a white-great. It maybe cold (real cold) but it's warm enough to melt your heart without burning up the cash in your wallet.
Date published: 2019-02-16
Rated

5

out of

5
by
Twinkle Toes
from
Fantastic Freezer
This is a fantastic little freezer that has allowed me to bulk buy. It is small enough that I don't have trouble finding things in the bottom. It is quiet, efficient and very cold.The seals are very strong meaning you sometimes need to wait a few minutes for the preassure to equalise before being able to open the lid again. Because it is my second freezer, this isn't a problem. It comes with one basket but more can be bought from the manufacturer. The price was amazing especially since delivery was included. The drivers were fantastic, polite and let me know when they were all most here. The only thing that would make this freezer better is a light in the lid. Tip: Fill milk bottles with water and place them in the bottom while you're still filling the freezer which will help the freezer run more efficiently. I use the frozen bottles when we go camping as "free" ice which also avoids water in the bottom of the esky.
Date published: 2016-03-22
Rated

5

out of

5
by
sharpy38
from
Great price brilliant brand
Bought it three to four weeks ago Daughters Christmas gift She lives it Fits perfectly in her laundry
Date published: 2018-11-28
Rated

5

out of

5
by
Lynnh
from
Excellent product
Purchased this freezer as an addition to store larger items and could not be happier
Date published: 2017-12-27
Rated

4

out of

5
by
belly 001
from
freezer
good size for what we needed fits nice in the corner and is quite when running
Date published: 2018-12-07
Rated

5

out of

5
by
Scuba Suzie
from
Fantastic freezer
I bought this small chest freezer as my new four-door Westinghouse fridge freezer was ok apart from the freezer section losing two drawers to the ice-making function. This chest freezer lives in my garage and is so handy - I can drop my freezable shopping straight in there from the car now. Wouldn't be without it, it's superb!
Date published: 2019-03-12
Rated

5

out of

5
by
Toothfairy
from
Great Little Freezer
We got this freezer a month ago. Delivery was prompt and delivery men was well mannered and polite. The only strange thing is once you have opened the freezer once, and closed it, it is almost impossible to open it again for a while. For some reason the negative pressure sucks the lid on and it gets "stuck".
Date published: 2017-12-13
Rated

5

out of

5
by
Amandaf77
from
Great compact freezer - works brilliantly
I'm really happy with this freezer. I have 5 kids and needed some extra freezer space (have a side by side). I had a massive old chest freezer, and I ditched that and bought this one. It's compact so sits nicely in my kitchen, but large enough to hold quite a lot of food. love it. very happy.
Date published: 2018-09-06
Rated

5

out of

5
by
Steveeeee
from
We love it.
Good size, even at the smallest size in the range. We managed to fit 60 containers with enough food for 3 people in it. Pretty happy with that! What's with this rating system though? How do you rate a chest freezer on its attractiveness? It's a white rectangular prism... 4 stars?
Date published: 2017-07-26
Rated

3

out of

5
by
Pompey
from
Pretty basic stuff
The product looks as good as a chest freezer can, but has a few little problems. I find it worrying that the green light actually goes off when it is working and the compressor is not on, giving you a false sense of security (not knowing wether the freezer is working or not)!
Date published: 2018-01-25
Specifications
PRODUCT PROFILE
Domestic warranty details (yrs)
2
Exterior cabinet finish
white
Refrigerant
R600a
Refrigerator Type
chest freezer
Fridge door opening
Exterior door finish
White
Cooling system
cyclic
DIMENSIONS
Total height (mm)
825
Total depth (mm)
560
Total Gross Capacity (L)
142
Total width (mm)
760
Cabinet depth (mm)
515
Height adjustable feet
Yes
Cabinet width (mm)
760
Height with lid open
1298
ENERGY
Energy consumption (KWhr/yr)
230